Exploring Border Reivers History by Philip Nixon
Sep 22nd, 2010 | By
admin
| Category:
Book Reviews
The Border Country has always been a wild area, both in landscape and in history. It has seen many years of war and turmoil, but is an area of great beauty and has the capacity to imprint its unique charisma on every visitor. It is a fascinating and romantic area and yet the stories of its bloody history can still chill the soul. About 400 years ago, it was a desperate and dangerous place – this was the long-disputed Border Region separating the continually warring kingdoms of England and Scotland – a land of few law-abiding people and a land where no man dare venture unarmed. This was a place where life was lived under the constant threat of violence, an unsettling, windswept land where every home was a fortress and almost every family at feud – this was a time of constant raid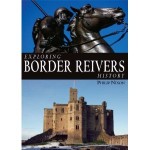 and reprisal when killing, burning, looting, theft, robbery and blackmail were an accepted way of life for the great Border Families such as the Armstrongs, the Nixons, the Milburns, the Kerrs, the Dodds, the Robsons, the Grahams and the Elliots…They are remembered today as the Border Reivers! Tough and rugged, these hard men were merciless racketeers and plunderers who held little sacred except their pledged word. If you have a reiver name, or suspect your ancestors were just a load of villains up to no good, then this well researched and lavishly illustrated new book could just confirm your worst fears!
About the Author
PHILIP NIXON is a professional photographer of vast experience who has worked with companies and organisations across the north of England. His clients include the National Trust, the Northumbria Tourist Board and Northumberland National Park and his work has been published in countless magazines and books. He teaches photography and runs popular workshops in the north-east and Scottish Borders. Philip also writes, photographs and produces audio-visual displays which he presents to groups, organisations and companies all over the north of England. His previous books for Breedon, Exploring Durham History (1998) and Exploring Northumberland History (2006) became local bestsellers.